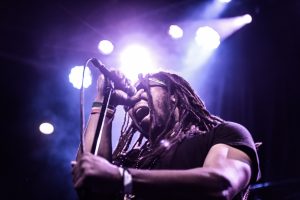 Performing on the SurfSide Deck 
Sunday,  July 2 | 7PM
Doors Open at 6PM
Special Guest Java Juke Box
Hosted by DJ Green Lion Crew 
General Admission/Standing Room Only
Advanced Tickets Online –  $20
Day of Show – $25

This event is for 21+ ONLY
NO BACKPACKS | NO RE-ENTRY

About Mighty Mystic
Mighty Mystic is considered as one of the leaders in the international reggae scene and is a box office draw at venues and a staple at festivals. The Jamaican born U.S. based artist has 5 highly acclaimed albums 4 of which charted top 10 on Billboard and iTunes. He is labeled as a touring machine with roughly 40 tours equaling thousands of concerts and a career spanning two decades. His high flying, stage diving, brand of reggae music is electrifying and has been captivating audiences everywhere. He has gone from being a fan of reggae music to being a major contributor to the art. Mighty Mystic came on the scene in 2006 after scoring back-to-back international hits with "Riding on the Clouds" and "Revolution". However, it wasn't until the release of his first album "Wake up the World" (2010) that he became a household name. "Wake up the World" was a chart-topping album with guest appearance by reggae icon Shaggy. Mystic continues to wake up the world with energy and passion and a brand of his own which he emphatically calls "Hard Roots". FUN FACT: Mighty Mystic is also the younger brother of current Jamaican Prime Minister the Honorable Andrew Holness. When asked, does being the brother of Prime Minister Holness have any impact on your music? Mystic simply says "Andrew has a job to do and so do I, impact or not we both have our own mission to complete".
THE EARLY YEARS
Mighty Mystic was born Kevin Mark Holness in the farming community of Goshen, St. Elizabeth, Jamaica to parents Morris & Sonia Holness. As a child, Kevin showed early interest in his native island's music. It was common to hear him singing the latest tunes while imitating the actions of popular reggae artists. When Kevin was 9, the family left Goshen and relocated to Boston. Though oceans apart Kevin never lost the passion for his beloved reggae music. Kevin alongside his brother Stephen began performing at school talent shows, outdoor gatherings and anywhere a mic was on display and quickly made a name for themselves as the "reggae rappers". Soon after the brothers formed their first band the "Thunder Band". Kevin became "Mystic" as it was his dads nickname and also the name of the area in Boston where he lived. With Mystic on vocals and Stephen on the lightening sharp guitar the brothers would score a National hit (Riding on the Clouds) and a Global hit (Revolution) on their two first releases. This early success and family bond would be the foundation of which carefully crafted reggae music would flow.
MYSTIC OF TODAY
Though his brother Stephen has since retired, Mighty Mystic has continued to carry the reggae torch. And is now a Globally respected and sought-after artist on the reggae scene. His brand of "HARD ROOTS" with his high energy stage performance has been a magnet for the enthusiastic reggae fan base. He has managed to hold firm to his Jamaican roots while adding elements of Hip Hop and Rock giving Mystic his own identifiable sound. To date Mighty Mystic has released 5 successful albums Wake up the World 2010, Concrete World 2014, The Art of Balance 2016, Enter the Mystic 2019 and Giant 2022. Many of his releases have become cult like favorites within the global reggae genre. He has come a long way from performing at school talent shows to now sharing the stage with some of the greats like Ziggy Marley, Steel Pulse, Damian Marley, Buju Banton, Stephen Marley, Shaggy, SOJA, Toots and the Maytals, Collie Buddz, Sean Paul, Lee Scratch Perry, Barrington Levy, The Wailers, John Brown's Body, Dirty Heads Third World, Freddie McGregor, Capleton and the list goes on… Whether club, festival or TV you can be sure to be entertained by the vibes provided by Mighty Mystic. Be on the lookout for his up-coming 2022 "Giant" Album release world tour.
Important Event Info: 
6:00 PM Doors Open with DJ Green Lion
7-7:45 Opener: Java Jukebox
8-9:30 PM Mighty Mystic
9:30-10PM DJ Green Lion
Rain Location- Blue Ocean Music Hall